A Word From the VP
Dear Colleagues,
With all that is going on around us these days, it is nice to be able to focus on the many accomplishments of our excellent faculty. This issue of Faculty Matters is filled with positive news and professional development opportunities. Please take a moment to read the names of faculty colleagues who were promoted and/or tenured this year. This was the largest number of promotion and tenure candidates in our history and they are an impressive group. Also, the 2022-23 recipients of sabbatical awards are announced. The sabbatical proposals were ambitious, compelling, and a pleasure to read. I am so happy that we are now able to award a larger number of one-semester sabbaticals than in past years. It was also a pleasure to read the applications for professional development leave. See the list of recipients of professional development leaves in this issue. Congratulations to all! And my thanks to the faculty members who served on the P&T, Sabbatical, and Professional Development Leave Committees. Your time and effort on behalf of your colleagues is much appreciated.
I wish you all a healthy and productive semester.

Janet Kistner
Professor of Psychology
Vice President for Faculty Development and Advancement
---
Faculty Support and Development
Writing Opportunities
A key way to manage and even increase our productivity is to schedule writing time. NCFDD requests 30 minutes daily, because daily is key. Thinking about our projects five days a week lessens the time we spend reorienting ourselves to where we were in our process. FSU offers 6.5 hours of time every workday that you can join a colleague in writing. Between 6:30 a.m. and 8:30 a.m. Monday through Friday you can find an FSU colleague to write in solidarity with you; between 11:00 a.m. and 2:00 p.m. Monday through Friday you can find an FSU colleague to write in solidarity with you. Select a time that works for you and commit to it. You can log your spring commitment here: SPRING WRITING COMMITMENT.
New Faculty Deep Dive Luncheons
New faculty are invited to meet twice this semester for lunch and conversation with established FSU faculty. We meet in the Suwannee Room 11:30 – 1:00 on Thursday, February 23rd to talk about Diversity, Equity, and Inclusion and on Thursday, March 23 to talk about Mentoring Resources. RSVP required.
Faculty Fulbright Application Workshop
The Fulbright Scholar Application workshop that was cancelled in the fall due to Hurricane Ian has been rescheduled for Wednesday, March 29, from 3:00 – 4:30. Come learn about the process of Fulbright Scholar and Distinguished Chair application and fulfillment. Registration requested.
Humanities Area Fellowships Application Workshop
The Humanities Area Fellowships Application Workshop that was cancelled in the fall due to Hurricane Ian has been rescheduled to Tuesday, March 28, from 9:30 – 10:30. Come learn about how to streamline your applications for the NEH Fellowship, the ACLS Fellowship, the National Humanities Center Fellowship, and more. Registration requested.
Let's Talk about Your Five-Year Plan
Though it may not feel like it some days, time moves quickly in this profession. Many faculty focus well on the goal of promotion, but what else do you want to accomplish in your career? Peggy Wright-Cleveland is available for discussion of five- and ten-year career plans that include honorific awards, national leadership, excellent teaching, and more. Schedule a time to consider pathways to your most auspicious goals. Contact Peggy Wright-Cleveland to make an appointment.
---
Faculty Celebrations
Promotions and Tenure Awarded
Congratulations to our outstanding faculty earning Tenure and/or promotions to Associate or Full Professor. FSU is well-staffed with exceptional faculty.
FSU Authors Day Annual Celebration
The Office of Faculty Development and Advancement and FSU Libraries are hosting the annual FSU Author's Day reception on Thursday, March 23, 2023 from 4-6pm. This program annually honors faculty and staff that have recently published a book. Please plan to join us in the beautiful Heritage Museum to congratulate the authors and peruse FSU scholarship in book form.
If you are a faculty or staff member who has published a book in the last year, Jan 1, 2022 – Dec. 31, 2022, please either update your FEAS profile or reach out to Brew Schoonover at dschoonover@fsu.edu soon to be sure your book is included in FSU Author's Day.
Nominations are Open for the Ralph Stair Prize in Innovative Education
Inaugurated in 2013, the Ralph Stair Prize in Innovative Education is awarded biennially to an individual or collaborative team at FSU who has developed innovative education approaches that demonstrate the potential of having great impact nationally and internationally. "Innovative educational approaches" include but are not limited to the following: textbooks, Internet sites, distance learning approaches, online delivery of course materials and content, instructor materials, student materials, uses of technology to enhance learning and evaluation of learning.
This award is open to all FSU faculty, instructors, lecturers, adjuncts, and others involved in teaching and the development of educational materials.
Nominations are due March 22, 2023. Click here for full nomination instructions.
Sabbatical Leave
Congratulations to our accomplished faculty earning sabbatical leave next year. Sabbatical leave enables faculty to focus their attention on one project and make significant headway. We wish creativity and productivity to all 2023-24 recipients.
Professional Development Leave
Congratulations to Specialized Faculty awarded Professional Development Leave for AY2023-24. May your time away be beneficial.
| | |
| --- | --- |
| Audrey Heffron Casserleigh | Emergency Management & Homeland Security |
| Brian Ewald | Mathematics |
| Helen Annette Jones | Office of Distance Learning, Instructional Development |
| Randolph Langley | Computer Science |
| Jane Dwyer Lee | Social Work |
| Elizabeth DiDonna | Art |
| Victoria Meyers | Motion Picture Arts |
| Ross Moret | Honors Program |
| Robert Myers | Computer Science |
| Camilo Ordóñez | Mechanical Engineering |
| Christina Owens | Honors Program |
| Teresa Roach | Sociology |
| Erika Stone | Motion Picture Arts |
| Michael Dalton Trammell | Management |
| Latika Young | Undergraduate Research and Academic Engagement |
---
Nuts and Bolts
Ready to be Promoted?
This spring FDA will host four promotion workshops to clarify processes and requirements. If you plan to go up for promotion in 2023 or 2024, make time to attend. If you have questions, contact Melissa Crawford.
Faculty Promotion Workshop for Staff
A workshop for staff focusing on the faculty promotion process will take place on Tuesday, March 21, 2023 at 3:30 p.m. via Zoom.
Promotion and Tenure Workshop for Assistant Professors
A workshop for Assistant Professors focusing on the promotion and tenure process will take place at 3:30 p.m. Monday, March 27, 2023 via Zoom
Promotion and Tenure Workshop for Associate Professors
A workshop for Associate Professors focusing on the promotion and tenure process will take place on Tuesday, March 28, 2023 at 3:30 p.m. via Zoom.
Promotion Workshop for Specialized & Clinical Faculty
A workshop for Specialized & Clinical Faculty focusing on the promotion process will take place at 3:30 p.m. Wednesday, March 29, 2023 via Zoom.
---
The FSU Faculty Community
From Your Faculty Senate President
Keep your eye out later this spring for the opportunity to become involved in faculty governance. The annual spring service survey will be your chance to volunteer to serve on important committees which set policy and guidance for the university's academic mission. Over 150 faculty get service experience on several committees that deal with graduate policy, university curriculum, sustainability initiatives, the honors program, and more. Additionally, we often return to this slate of volunteers when faculty are needed throughout the year for various duties. The survey announcement will be emailed to all faculty in April.
The Faculty Senate continues to meet this spring on Zoom beginning January 18. Our meetings are open and all are welcome to attend. Details can be found at the Faculty Senate web page.
This is my last semester as Faculty Senate president. I took up this position in January of 2020 when the prior president left FSU for greener pastures. It's been an interesting three and a half years: pandemic operations, moving to (and then off) online instruction, legislative issues, and hiring a new university president. A new senate president will be elected at this upcoming April's senate meeting. I hope that they receive the same level of support from the faculty that I enjoyed.
Eric Chicken
Department of Statistics
Faculty Senate President
Three Faculty-led Speaker Series Offer Events this Spring
FSU faculty lead three speaker series aimed for the entire campus and regional community. The Milton S. Carothers Faculty Lecture Series is the longest running speaker series on campus and features FSU faculty talking about their research. Don't miss Eric Hines on February 14 and Alishia Gaines on April 11. Lunch is provided WITH an RSVP.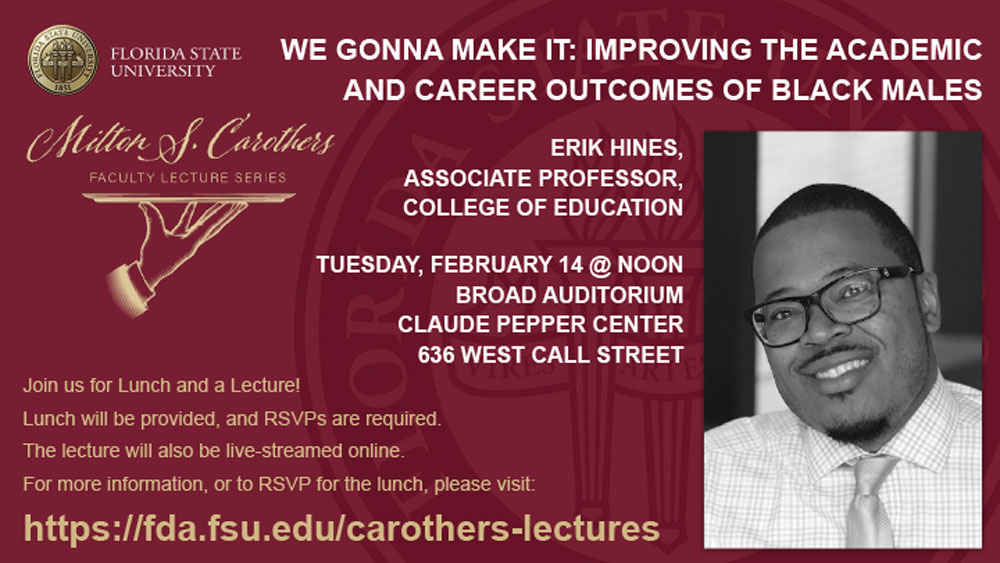 ---
The FSU Zora Neale Hurston Speaker Series features scholars, artists, and leaders whose work points the way to a better future for all. The series takes inspiration from the life and work of Zora Neale Hurston (1891-1960). Hurston's groundbreaking anthropological research, filmmaking, audio recordings, and creative writing documented and imagined new possibilities for Black life throughout Florida, the United States, and the Caribbean. Yet her contributions only received the full recognition they merit after her death. In honoring Hurston's legacy, this speaker series supports and promotes the work of talented people from marginalized communities so that the FSU community can learn from and engage in their work today.
This spring the Zora Neale Hurston Speaker Series will co-sponsor two events. The first is Focus on the Gulf 2023, a collaboration with FAMU focused on fostering longstanding interdisciplinary connections across FAMU and FSU. Reserve Thursday, April 13 to attend at Turnbull Conference Center. For more information, contact Kassie Ernst, Florida State University (FSU) Gulf Scholars Program (GSP) Director.
The second is an Earth Day event on April 22, 2023 feature Dr. Monica White as speaker. Save the date, check your Thursday announcements, and contact John Ribo for more information.
---
Road Scholars Speaker Series Returns
After a brief hiatus, the Road Scholars Speaker Series is returning to campus this spring. The Road Scholars Speakers Series invites colleagues from fellow Atlantic Coast Conference universities to meet with students and colleagues about their areas of research. Included is a presentation open to the general public and all of campus. This series encourages researchers and teachers to enjoy our schools' athletic competition and create collaboration off the athletic fields. If you would like to suggest an ACC scholar to bring to campus, contact Bridget Birmingham. Watch your Thursday announcements for more details about the spring event.
Fulbright Scholar Shows Award-Winning Film on Campus
Frank Gunderson, who served a Fulbright Scholar Distinguished Chair award to Tanzania in 2021-2022, will be showing the film he completed during his Fulbright appointment. Stories about Mlimani Park Orchestra will be shown at 7:00 p.m. on March 1st at the Askew Student Life Center. There will be a Q&A with Dr. Gunderson after the film. This event is open to all of campus and the public.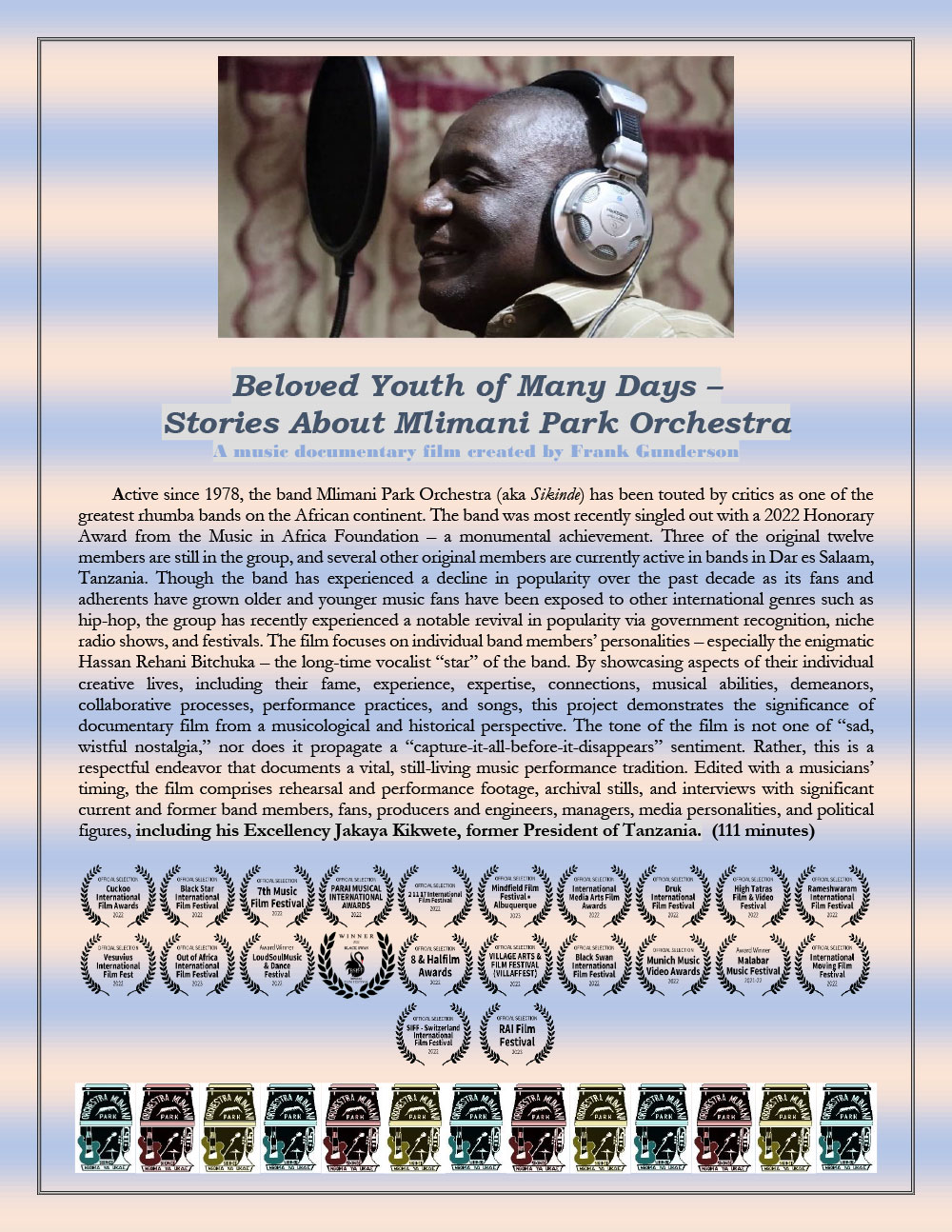 ---
Faculty Events Calendar