A Word From the VP
Dear Colleagues,
It's hard to believe we are already at the end of week 3 of the Spring 2019 semester!
In this issue of "Faculty Matters," you will find information about faculty development opportunities such as writing groups, NCFDD webinars, and upcoming workshops on faculty award nominations and applications. This issue also has some "good news" announcements including a list of the 2019-20 recipients of sabbatical awards and professional development leaves, photos from the Provost's Reception Celebrating Faculty Promotions, and highlights about FSU faculty publications in The Conversation. Additionally, we have built a survey to teach us which social media platforms faculty use so that we may better focus our media efforts.  You can take that survey here: Faculty Social Media Survey.
This time last spring we launched the Collaborative on Academic Careers in Higher Education (COACHE) Faculty Job Satisfaction Survey. The results (posted on the FDA website) indicate that FSU levels of faculty satisfaction compare well with other universities. This is certainly good news but there is also room for improvement. I want to use the survey results as a guide for discussions about ways to continuously improve faculty life at FSU. Engagement of faculty in these discussions is critical to implementing effective and sustainable changes that will support faculty success. This semester I will hold several faculty forums to present what we've learned from the survey and to solicit your feedback and ideas about ways to enhance faculty life at FSU. Keep an eye out for the invitations. I look forward to seeing as many of you there as possible.
I wish you all a happy and productive semester.
Regards,

Janet Kistner
Professor of Psychology
Vice President for Faculty Development and Advancement
---
Faculty Support
Support for Scholarly Production
In Fall of 2018, more than 40 Assistant Professors, Associate Professors, Professors, and Specialized faculty participated in either a weekly writing group, an accountability group, or writing intensive. They reported increased productivity and work on multiple projects: articles, grant proposals, presentations, posters, data analysis, and a plenary talk. Though the structure of our conversation varies, in each of these groups faculty hold each other accountable by sharing writing goals and writing progress. If the group wishes, faculty include discussion about hurdles to regular and successful writing. We meet face-to-face and virtually. Consider joining us this spring.
Accountability Group Registration
Weekly Writing Group Registration
Writing Intensives
What is a writing intensive and why does FSU host them? A writing intensive is a dedicated and focused, extended writing time shared by colleagues. Tenure track, tenured, and specialized faculty commit to daily writing for a week - usually three hours per day, sometimes more - and write in solidarity with each other. We gather, introduce ourselves and our writing goals for the week, and write. At the end of each day's writing, we check-in to report our challenges and our accomplishments. Sometimes it just helps to have someone who knows the gig hear your glee that the lit review is finished or commiserate with your frustration addressing the concerns of the second reviewer. In Fall 2018, FSU had 24 faculty members participate in week-long writing intensives. Here is what three faculty members had to say about the experience:
"I enjoyed the opportunity to focus solely on writing. Each day that I was there, I used every bit of the three-hour period. I did not check email or any other social media. I recommend the writing intensive to any faculty who desires time to focus on writing. Come with a plan and get to work!"
Marie F. Denis-Luque, Research Faculty, Department of Family & Child Sciences
"When I registered for the writing intensive, I wanted to choose one major task to complete during the week. During the week, I was able to complete that task and an additional task as well. I was shocked and delighted at how much I could accomplish in just one week. What a treat it was to finish those items that were lingering on my to-do list!"
D. Gregory Springer, Assistant Professor of Music Education
"I very much enjoyed the writing retreat. I needed to work on an article manuscript, and the retreat allowed me to set aside time to do that early in the morning, before any other daily activities got in the way. There's nothing like the sound of keyboard typing (and the company of fellow writers) to inspire me to write - I got 3,000 words down during the week. Having accomplished my writing goals early in the morning, I was also more productive during the rest of the day. I'd like to thank Peggy and all of those involved for organizing this."
Marina Duque, Assistant Professor of Political Science
In spring 2019, FSU will offer two more writing intensives. Make sure you sign up below. Enrollment is limited.
Registration: February 4 – 8, noon until 3:00
Registration: Spring Break Week, March 18 – 21, 9:00 – 3:00, lunch provided
Support for Career Development
Every semester FDA offers information, peer review, and logistical support for faculty award application and nomination. This spring, we have the following three sessions planned. Make it part of your career plan to apply for and nominate others for national and international awards.
Fulbright Scholar Application Workshop
     March 5, 3:00 – 5:00, 201 Westcott
Humanities Fellowship Application Workshop Registration
     February 19, 4:00, 211 Westcott
DAAD Faculty Fellowship Application Workshop
     Wednesday, April 17, 3:00 – 5:00, HSF Great Hall
Look for more award possibilities here: FSU Faculty Award Catalog
Ask for an individual award plan consultation with Peggy Wright-Cleveland
A National Network of Support
NCFDD
Strategic planning, productivity, healthy professional relationships, and work-life balance are proven requirements for a long, successful career in the academy. These requirements are best met through the mentorship of BOTH internal and external colleagues. FSU offers all faculty FREE membership to the National Center for Faculty Development & Diversity (NCFDD). To date, 330 FSU tenured track, tenured, and specialized faculty have joined NCFDD and are maintaining over 600 active sessions – watching webinars, working with a mentor, participating in a forum with colleagues across the nation.
Want to Join the Fun?
Go to www.FacultyDiversity.org/Join and select Florida State University On FSU's landing page, select "Activate Your Membership." Register with your FSU email address only. The Office of Faculty Development and Advancement wants to know what you think of your NCFDD membership. Email Peggy Wright-Cleveland at mwrightc@fsu.edu.
FSU's NCFDD Spring Faculty Forum
On Tuesday, January 29, FSU faculty will gather face-to-face to watch and discuss the NCFDD webinar "Writing Science: How to Write Papers that Get Cited and Proposals that Get Funded." The webinar, led by Josh Schimel, Ph.D., author of the book by the same title, will provide concrete ways to make science writing more accessible. Lunch is provided, so space is limited to 20. Those who are looking to improve their ability to communicate about science and to fellowship with other science writers on campus should register here:
---
Faculty Celebrations
FSU Faculty Lead The Conversation
https://theconversation.com/institutions/florida-state-university-1372
FSU faculty have been quite active on The Conversation: This publication venue offers evidence-based journalism written by experts and, as of today, FSU has more publications here than any other state university in Florida. Publishing for the broad audience of The Conversation generates a good deal of attention on researcher's topics. In 2018, 24 FSU faculty contributed 28 articles to The Conversation.  These articles had 466,047 reads and generated 304 comments across ten countries. Most readers were in the U.S., but many were in Australia, Canada, the United Kingdom, and a few were in New Zealand, India, France, Singapore, South Africa, and Germany.
The Conversation editors help faculty present their research in language accessible to the educated lay reader. A huge part of the ethical responsibility of the Academy, particularly as a state-funded research institution, is to share newly created knowledge with the public. The Conversation is a very effective way to do that and provides expert editorial service every step of the way. FSU faculty have found the experience to be quite positive.
"I have had a very positive experience both with your office and also with The Conversation and would do it again. The exposure this venue provided was exceptional, as my work was picked up by Flipbook, The Independent in the UK, and FastCompany. It has resulted in an invitation to go to San Francisco to offer a guest lecture, speaking with National Public Radio, and led to my work with a new design practitioner initiative to address homelessness with the assistance of quality design."
Jill Pable, Professor, Interior Design
"I liked the challenge of writing for a broader audience instead of the traditional academic journal article. Most people can't get through a journal's paywall, particularly in Kenya, so this type of outlet allows greater access to research."
Stephanie Simmons Zuilkowski, Associate Professor, Educational Leadership and Policy Studies
"I had an excellent experience writing for The Conversation. The editors were both respectful of my ideas and engaged with content and form. I particularly appreciated how they helped me condense information without shortchanging style. The platform is easy to use."
Vincent Joos, Assistant Professor, Anthropology.
"My editor at The Conversation was a great help is honing my message to make it more readable for a wide audience. The Conversation is well connected to get wider exposure for our academic work."
David Rasmussen, Professor, Dean Emeritus, College of Social Sciences and Public Policy
Consider reaching a new audience with your work in 2019. Visit The Conversation webpage and email them directly to express your interest in writing for them.
McKnight
The McKnight Doctoral Fellowship program is designed to address the under-representation of African American and Hispanic faculty at colleges and universities in the state of Florida by increasing the pool of citizens qualified with Ph.D. degrees to teach at the college and university levels. As a by-product, it is expected that employment opportunities in the industry will also be expanded. Since 1984, the McKnight Florida Education Fund has grown from 20 to 1,280 fellows, 417 of whom are matriculating plus 691 who have earned doctoral degrees.
FSU is proud to participate in the McKnight Doctoral Fellowship program. FSU currently has 36 matriculating doctoral fellows and 4 dissertation fellows. The success of McKnight Fellows is largely dependent on the mentoring they receive from faculty. We are so proud this year that three FSU faculty were recognized by the Florida Educational Foundation with the William R. Jones Most Valuable Mentor Award. Congratulations to Dr. Patricia Warren, Associate Professor, Criminology and Criminal Justice; Dr. Tamara Bertrand Jones, Associate Professor/Interim Chair, Education; and Dr. Adrienne Stephenson, Assistant Dean, Director, The Graduate School and thank you for your leadership in mentoring at FSU.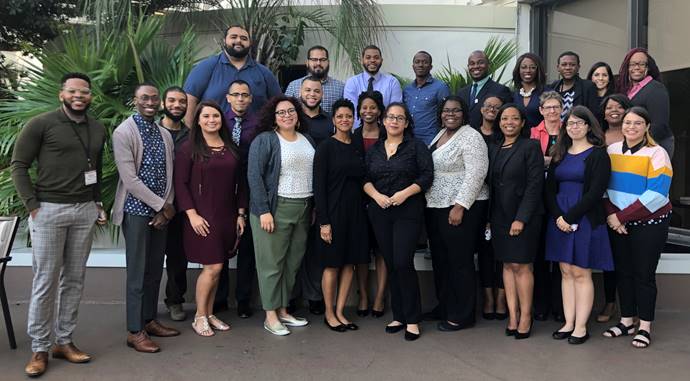 Specialized Faculty Awarded Professional Development Leave
Congratulations to specialized faculty awarded professional development leave (PDL) in 2018-19.  PDL enables specialized faculty to focus on training, research, leadership, or credentialing as best serves their professional needs. We wish significant gains to each of the 2018-19 recipients.
Dr. Randy Blass, Marketing
Dr. David Branscome, Classics
Dr. Michelle Laurents, Communication
Ms. Melina Myers, Computer Science
Dr. Ying Mai Kung, Nursing
Dr. Pamela Robbins, History
Dr. Victor Schepkin, National High Magnetic Field Laboratory
Dr. Lisa Tripp, Motion Picture Arts
Ms. Valerie Scoon, Motion Picture Arts
Faculty Awarded Sabbatical Leave
Congratulations to our accomplished faculty earning sabbatical leave next year. Sabbatical leave enables faculty to focus their attention on one project and make significant headway. We wish creativity and productivity to all 2019-20 recipients.
One-Semester Sabbaticals
Tarek Abichou, Civil and Environmental Engineering
Walter R. Boot, Psychology
Michael D. Carrasco, Art History
Hongchang Cui, Biological Science
Annika A. Culver, History
Wu-Min Deng, Biological Science
Ronald E. Doel, History
Gerald R. Ferris, Management
Kristie S. Fleckenstein, English
Wei Guo, Mechanical Engineering
Margaret K. Hanson, English
Allan C. Jeong, Educational Psychology and Learning Systems
John E. Kelsay, Religion
Alec N. Kercheval, Mathematics
Rhea E. Lathan, English
Laura H. Lee, Modern Languages and Linguistics
Olivia Mason, Earth, Ocean and Atmospheric Science
Maxine L. Montgomery, English
Sharon E. Nicholson, Earth, Ocean and Atmospheric Science
Insu Paek, Educational Psychology and Learning Systems
Christopher J. Patrick, Psychology
Patricia H. Schriefer, Risk Management/Insurance, Real Estate, and Legal Studies
Alexander S. Volya, Physics
Kun Yang, Physics
Two-Semester Sabbaticals
Deborah J. Armstrong, Business Analytics, Information Systems and Supply Chain
Mark A. Bourassa, Earth, Ocean and Atmospheric Science
James S. Bowman, School of Public Policy and Administration
Randolph K. Clarke, Philosophy
Holly A. Hanessian, Art
Piyush Kumar, Computer Science
Biwu Ma, Chemistry and Biochemistry
Brian G. Miller, Chemistry and Biochemistry
Colleen L. Muscha, School of Theatre
Andrew R. Opel, Communication
Toby J. Park, Educational Leadership and Policy Studies
Hyejin Park, Nursing
Karen A. Randolph, Social Work
Thomas E. Smith, Social Work
Kevin G. Speer, Earth, Ocean and Atmospheric Science
Nathanael Stein, Philosophy
Ulla K. Sypher, Communication
Kenneth A. Taylor, Biological Science
Joesph A. Travis, Biological Science
2018 Promotion and Tenure Celebration
The Provost honored faculty promoted and/or tenured in 2018 with a gathering and reception in Dodd Hall. Faculty took time to reflect on this milestone and then celebrated with food, drink, and conversation.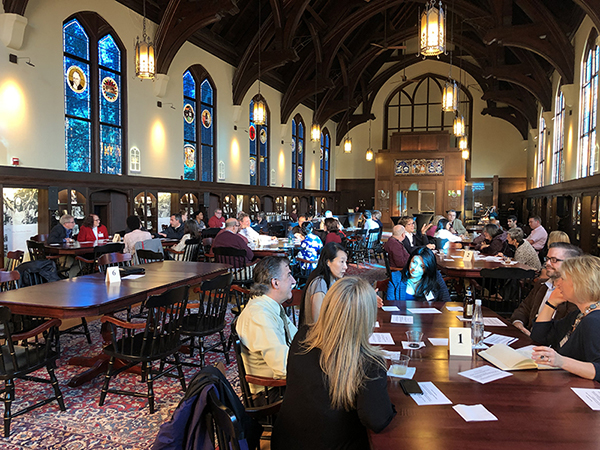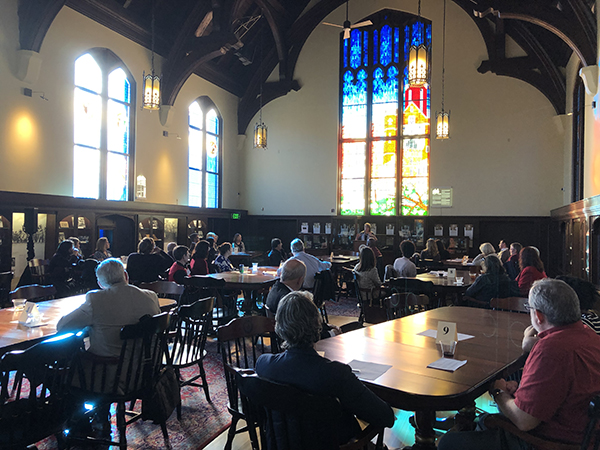 FSU Authors Day February 12
FSU is excited to host the ninth annual FSU Authors Day. Celebrating the publication of the book is a long-held academic tradition. On February 12, from 4:00 – 6:00 in the Robert B. Bradley Reading Room of Strozier Library, FSU will host a reception celebrating the faculty authors of books, scores, and CDs published in 2018. As many books, scores, and CDs as possible will be available for you to peruse and authors will be available for congratulations and conversation.
This event is free and fun and the public is welcome.
If you have not been contacted by our office and have a book-length publication to celebrate, please contact Peggy Wright-Cleveland.
As is also our long-standing tradition, leading up to FSU Authors Day there will be a spring faculty book reading at UKirk. At 2:30 on February 12, FSU Associate Professor Tanya Peres will be presenting research from her book, Baking, Bourbon, and Black Drink: Foodways Archaeology in the American Southeast. Come learn about "foodways archaeology" and then join us at FSU Authors Day.
---
Nuts and Bolts
FDA Social Media
Hello everyone, and welcome back from the media intern team, Fabiana Ferrante, Emily Campana, and Zoe Zirlin. Our goal this semester is to keep you informed, updated, and united as Florida State Faculty! Make sure to follow us on our social media platforms so you can continue to be updated on faculty events on and around campus as well as other FSU Faculty member's accomplishments.
 
Twitter: https://twitter.com/FSUFaculty
Facebook: https://www.facebook.com/FSUFacultyAwards
Wordpress: https://fsufacultydevelopment.wordpress.com
Social Media Survey Request
In order to make sure we are sharing information and celebrations across platforms that actually reach our faculty, we are hosting a survey to see how our faculty use social media. Please give us three minutes of your time to direct how we use social media: Faculty Social Media Survey. Thank you!  
Fun with FEAS
Did you know that with the new integration between FEAS and ORCID, it's now easier than ever to import your works into FEAS? In the previous issue of Faculty Matters, we gave instructions for exporting your Works from ORCID. Since that issue, we have been hard at work to reduce that process to only a couple of mouse clicks!
Faculty are encouraged to visit https://feas.fsu.edu/External_Interface.aspx. (Note: your CV status must be set to "Updating/In Progress.") From there, click on the drop-down list and select "ORCID Works." Click on the link to "Authenticate your ORCID iD," and sign in with your ORCID username and password. If you do not yet have an account, you may choose to create one now. Once signed in, you will be redirected back to FEAS, where you may then click on the button to "Import to CV Database." Your Works in ORCID will automatically be placed in "Items to be Finished" for your review!
Your ORCID iD may be viewed at any time through your FEAS Preferences.
For questions or assistance with this process, contact us at fda-faculty-awards@fsu.edu.
---
The FSU Faculty Community
Faculty Senate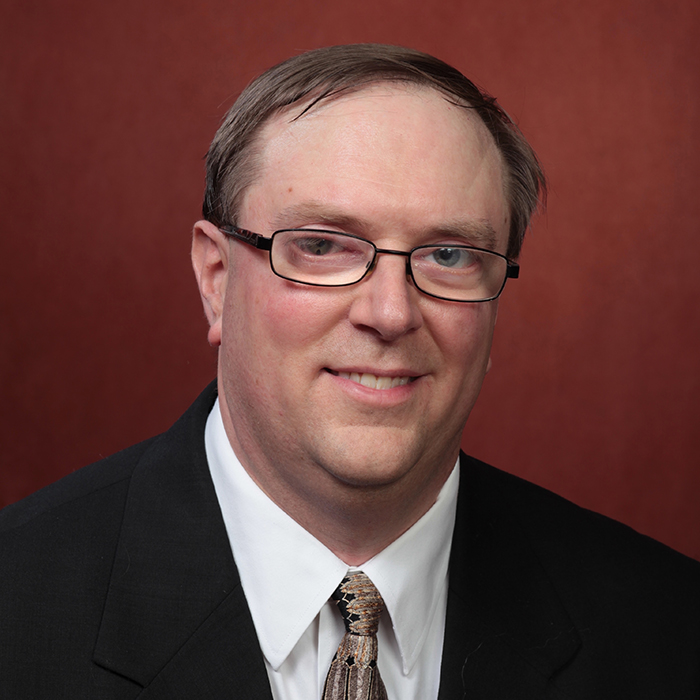 For more than two years, the Faculty Senate has been working on revisions to the FSU Constitution, led by the Constitution Review Committee. The Constitution has not been updated since 1989. Some changes have already passed the Senate while others are still under consideration. When the Senate completes its work, the revised Constitution will be brought to the General Faculty for a vote under the process defined within the Constitution. We hope to accomplish this before the end of the academic year.
In November, the Faculty Senate recognized six people with Torch Awards for their contributions to the academic mission of FSU. Nominations were solicited in early fall and the Torch Awards committee reviewed an impressive set of candidates. The 2018 Torch Award recipients were Don Gibson, Mark Hillis, Nan Hills, Barry Jenkins, Mel Stith, Jr., and Charlie Ward, Jr. Each has made a significant impact on FSU.
In December, President Thrasher gave the annual State of the University address prior to the December Senate meeting. As he highlighted, it has been both a challenging and successful year. The University is poised for even greater accomplishments in the coming year. The full address can be viewed at https://wfsu.org/archives/fsu-board-of-trustees-2018-12-05.php.
We will shortly begin the process of election of new Senators. Each year, half of the Senators are elected to a two-year term following processes laid out in the Constitution and college/department bylaws. The new Senate will begin its term with the April Senate meeting.
---
Faculty Events Calendar