A Word From the VP
Dear Colleagues,
I don't know about you, but I am celebrating the fact that this semester – Spring 2020 – has finally ended. This was surely the longest semester of my life and probably yours as well. Our faculty and instructional support staff did an INCREDIBLE job transitioning to remote teaching in record time. For those of you who never taught online before (which is most of our faculty), the transition to remote teaching was a very heavy lift. Even those of you who had some experience teaching online, converting a course designed to be taught in person into one that is delivered online takes a lot of time and energy to do well. So – to all of you who were teaching this semester – thanks for rising to the challenge.
As you know, we are continuing remote teaching through summer. Plans for fall are still "a work in progress" but will likely include remote teaching to some degree. Fortunately, FSU has a strong team of professionals in the Office of Distance Learning (ODL) and the Center for Advancement of Teaching (CAT) who are eager to assist instructors to enhance their remote teaching. We are also fortunate to have faculty who have generously shared their online teaching expertise with other faculty including two lively panel discussions by faculty in the College of Communication and Information and a great presentation by the College of Education's Vanessa Dennen: "Creating Community in an Online Learning Setting."
Alas, the move to remote teaching was accompanied by an increase in honor policy violations. Ann DelRossi is a great resource and source of support for faculty who find themselves having to deal with student violations of the policy. I encourage you to read Ann's tips in this issue of the newsletter and to follow-up with her if you have any questions.
The chaos of this spring semester was not ideal for faculty scholarship. If you'd like help carving out time for writing and would enjoy the company of fellow writers, consider signing up for one of our virtual writing groups or reach out to Peggy Wright-Cleveland for some help getting back on track with your scholarship.
Finally, in this issue of Faculty Matters, we celebrate faculty accomplishments by announcing this year's teaching and research award winners. Due to COVID, this year's faculty awards ceremony was via Zoom. Although the opportunity to be together in person was missed by all, it was still a joyful occasion. The big smiles on the faces of our awardees was uplifting and seeing our awardees celebrating their accomplishments with their children and other loved ones made this event very special.
It is amazing how much and how rapidly our lives have changed from the start to the end of this semester. I am so impressed with how well our faculty met the challenges of the past semester. As we move forward in these uncertain times, if there's anything we can do to help please contact the Office of Faculty Development & Advancement or feel free to contact me directly .
I hope that you and your loved ones stay safe and healthy.
I wish you all a healthy and productive semester.
Best,

Janet Kistner
Professor of Psychology
Vice President for Faculty Development and Advancement
---
Faculty Support
Faculty Helping Faculty
FSU is fortunate to have faculty with decades of experience designing and teaching online classes. FSU is also fortunate to have faculty willing to help each other. Recently, faculty from the College of Communication and Information and from the College of Education offered their expertise to FSU colleagues, K-12 colleagues, and teachers from across the state and country.
To assist FSU in thinking about short-term solutions and possible long-term approaches for remote teaching and online pedagogy, ten CCI faculty members kindly agreed to share best practices, lessons learned, and practical solutions in two Zoom panels about online teaching in April, 2020. 
The panel for April 17 included Jane Barrager(School of Information), Gary Burnett (School of Information), Kaity Lansford (School of Communication Science & Disorders), Tricia Montgomery (School of Communication Science & Disorders), and Michelle Kazmer. (CCI).
The panel for April 24 included Toby Graves (School of Communication), Shannon Hall-Mills (School of Communication Science & Disorders), Don Latham (School of Information), Lorri Mon (School of Information), and Carla Wood (School of Communication Science & Disorders).
These CCI faculty warmly welcomed faculty, adjuncts, and graduate student instructors from all over campus to the panels. Each faculty member shared their own experiences and techniques, and answered questions from the attendees at the panels.
Detailed notes from the panel presentations are available on request from Michelle Kazmer via email (mkazmer@fsu.edu), and a one-page executive summary of the content shared during the panel is online here: One Page Summary.
Also in April, Professor Vanessa Dennen of the College of Education, led a webinar on "Creating Community in an Online Learning Setting." This webinar is now posted on the College of Education's Blog
Dr. Dennen focused on Identity, Presence, and Community in an online learning setting and helped teachers new to online pedagogy see how priorities could and should remain "People first. Content second. Technology third."
Summer Writing Opportunities
At faculty request last summer, we began daily writing sessions to provide accountability for each other and to create a community of solidarity. We will continue this new tradition this summer virtually. Four times a week you may join your colleagues and write. You may write with us for some of the time or all of the time, each day or once a month; set the schedule that best serves you. Our purpose is to offer a supportive community of writers that will hold each other accountable, so please join with video to tell us your daily goals or write your daily goals in the Chat whenever you arrive. Before you leave, please report to your colleagues via Chat whatever you accomplished or confronted during the session. No registration required.
Summer Zoom Writing Sessions:
Tips to secure your Zoom meetings
Zoom has been an instrumental tool in recent weeks as classes and meetings around the world move online. To help secure your Zoom lectures and meetings, Information Technology Services (ITS) has prepared recommendations for how to secure Zoom class sessions and other meetings at Florida State University. FSU uses a special Zoom for Education product that provides enhanced security and privacy. As such, instead of using a free account, always sign in to your FSU Zoom account.
Once signed in, there are numerous security settings to consider when scheduling and running your meetings. Below are our top three tips to follow to help ensure FSU has a safe and welcoming learning and gathering space. To see an expanded list of Zoom security tips, see the 10 Ways to Secure Zoom Meetings Infographic.
Never share links publicly
Send meeting links directly to attendees; never share meeting links over social media or public websites. For course meetings, use the Canvas Integration to schedule your meetings.
Require meeting password
Require meeting participants to enter a password before joining the meeting. The password will be automatically included in the meeting invite or embedded in the course link if using the Canvas Integration.
Limit screen sharing
Prevent participants from sharing their screens during the Zoom meeting by limiting screen sharing to the host only.
Social Media Focused on Faculty
Did you know the Office of Faculty Development and Advancement has three social media platforms dedicated to faculty? Our Facebook, Instagram, and Twitter accounts celebrate faculty accomplishments, spread the word about events and deadlines of interest to faculty, and extend the welcoming and diverse community we experience on campus. Instagram, new to us this year, serves as a platform to tell students more about the faculty who mentor and teach them. Facebook celebrates faculty accomplishments large and small and Twitter serves as a quick, highly monitored news feed, exchanging news about faculty life, campus life, and conversations of interest happening at the state and global levels.
The content for these three platforms is created by three outstanding student interns, two from the InternFSU program: Chloe Bogdajewicz, Antonio Ortiz, and Zuzanna Szulc, all introduced to you in our last newsletter. They interview faculty, design graphics, design our YouTube page, and edit videos and texts. Additionally, they track and analyze media growth and engagement. Follow our social media posts and consider building your own InternFSU internship.
FSU FDA Social Media:
  Interview with Dr. Yolanda Rankin
  Instagram Connects Faculty and Students
---
Faculty Celebrations
Congratulations to FSU External Award Winners
Congratulations to the following FSU faculty who garnered external recognition of their teaching and research this year. Though not all 2020-21 award announcements have been made, we are excited about the ones that have.
Fulbright Scholars in 2020-21. Though their plans have necessarily been changed, all are holding to the hope that it will be full steam ahead in January of 2021.
Antonio Terracciano, College of Medicine, Fulbright to Finland
Jessica Muhamad, College of Communication and Information, Fulbright to Colombia
David Johnson, College of Arts and Sciences, Fulbright to Belgium
Patricia Villeneuve, College of Fine Art, Fulbright to Belgium
Lori Gooding, College of Music, Fulbright to Malaysia
Marci Mardis, College of Communication and Information, Fulbright Research Chair to Canada
NSFCAREER grant awardees:
Kourosh Shoele, College of Engineering
Hadi Mohammadigoushki, College of Engineering
Miranda Waggoner, College of Social Sciences and Public Policy
  Read Article
Congratulations to Jeremy Owens, Assistant Professor of Geology, for being awarded a Sloan Research Fellowship for 2020-21.
  Read Article
Congratulations to Nathanael Stein, Associate Professor of Philosophy, for being awarded an NEH Fellowship for 2020-21.
  Read Article
Congratulations to Martin Munro, Eminent Scholar and Winthrop-King Professor of French and Francophone Studies, for being awarded a National Humanities Center Residential Fellowship for 2020-21.
  Read Article
Congratulations to Liz Cecil, Assistant Professor of Religion, for being awarded an NEH-sponsored fellowship for $25,000 from the Council of American Overseas Research Centres (CAORC). Dr. Cecil will be affiliated with the Center for Khmer Studies in Siem Reap, Cambodia and focus on fieldwork there and in Java in service of her current book project.
Congratulations to FSU Internal Award Winners
Oft awarded faculty member Allan Marshall told me years ago two truths about faculty awards: 1. The hardest award to get was the first; 2. As a committee member considering award nominations, he found it difficult to award someone never recognized by their own University. FSU finds great value in recognizing the extraordinary work in teaching, research, and service accomplished by its faculty. Whether a first award for the faculty member, a new award for the university, or an award crowning a career of achievements, FSU internal awards hold the special honor of being peers recognizing peers. Congratulations to all the FSU internal award winners for 2019-20.
HONORS THESIS MENTOR AWARD
Ned Stuckey-French,
Department of English
UNDERGRADUATE RESEARCH MENTOR AWARD
Elizabeth Coggeshall,
Department of Modern Languages and Linguistics
UNDERGRADUATE ADVISING AWARD
Andrea Renee Dyehouse,
International Affairs Program
William Leparulo, Jr.,
FAMU-FSU College of Engineering
UNDERGRADUATE TEACHING AWARD
Jessica H. Clark,
Department of Classics
Debra Hale,
School of Theatre
Yuko Hori,
Department of Physics
Orenda Johnson,
Department of Psychology
Tanu Kohli Bagwe,
Center for Global Engagement
Kaitlin Lansford,
School of Communication Science and Disorders
Elizabeth Madden,
School of Communication Science and Disorders
Chad Marzen,
Department of Risk Management/Insurance, Real Estate and Business Law
Keithen Mathis,
College of Social Work
Jason Pappas,
Department of Sport Management
Jorge Piekarewicz,
Department of Physics
Angela Sehgal,
Department of Nutrition, Food and Exercise Sciences
Shannon Trem Thomas,
College of Music
Jillian Turanovic,
College of Criminology and Criminal Justice
Heidi Williams,
College of Music
Allison Wing,
Department of Earth, Ocean and Atmospheric Science
GRADUATE TEACHING AWARD
Sindy Chapa,
School of Communication
Jennifer Grill,
Center for Intensive English Studies
Ayesha Khurshid,
Department of Educational Leadership and Policy Studies
David Landau,
College of Law
Marcia Mardis,
School of Information
Catherine McClive,
Department of History
Laura Reina,
Department of Physics
Andrew Syder,
College of Motion Picture Arts
GRADUATE FACULTY MENTOR AWARD
Laura Arpan,
School of Communication
Betsy Becker,
Department of Educational Psychology and Learning Systems
Dean Grubbs,
FSU Coastal and Marine Lab
Christopher Patrick,
Department of Psychology
Heidi Williams,
College of Music
INNOVATION IN TEACHING AWARD
Diana Williams,
Department of Psychology
Penelope Kirby,
Department of Mathematics
FOUNDATIONAL COURSE EXCELLENCE AWARD
Steve Marks,
Department of Biological Science
Leah Hollingsworth,
Department of Mathematics
COMMUNITY ENGAGED TEACHING AWARD
Shalay Jackson,
College of Social Work
Nari Jeter,
Department of Family and Child Sciences
INCLUSIVE TEACHING AND MENTORING AWARD
Cameron Beatty,
Department of Educational Leadership and Policy Studies
Anel Brandl,
Department of Modern Languages and Linguistics
DISTINGUISHED TEACHER AWARD
Michael Ormsbee,
Department of Nutrition, Food and Exercise Sciences
DISTINGUISHED RESEARCH PROFESSOR AWARD
Christopher Patrick,
Department of Psychology
Debra Fadool,
Department of Biological Science
DEVELOPING SCHOLAR AWARD
Dawn Carr,
Department of Sociology
Kenneth Hanson,
Department of Chemistry and Biochemistry
Jie Yang,
Department of Computer Science
Yan-Yan Hu,
Department of Chemistry and Biochemistry
2020-2021 ROBERT O. LAWTON DISTINGUISHED PROFESSOR
Sharon Nicholson,
Department of Earth, Ocean and Atmospheric Science
---
Nuts and Bolts
A Word from the ICAI
FSU has been part of a longitudinal study with the International Center for Academic Integrity (ICAI). The research is especially important in today's climate, because FSU students self-report that they are 65% more likely to use unauthorized material while taking a quiz or exam online. (They self-report cheating 2% in a face-to-face format.) We know that our faculty do their best to minimize academic dishonesty, but the reality is that unauthorized collaboration is happening and is more likely to happen in a remote environment.
Here are things to think about as we move to another semester online:
Make your academic integrity expectations clear in your course syllabus and in your announcements - not just on Day One, but throughout the semester! Be clear about your expectations on collaboration vs. individual work. You can add more than just standard syllabus statement about academic integrity! List specific charges, found in your course syllabus.
Go ahead and Google: Spinbot.com , Paraphrasetool.com , GroupMe , Quizlet , Course Hero and Chegg.com to get a sense of the myriad of applications students use to plagiarize and collaborate. (This is only a sample of what is available to students.)
Use HonorLock or other appropriate proctoring services to administer exams.
Randomize your exams and update assignments each semester.
Follow-through with Step 1 Agreements. The Academic Honor Policy process is educational in nature; we want students to learn and earn their grades and degree with integrity!
For any questions about academic integrity, please contact our office at 850/644-6876 or Ms. Ann DelRossi
New Faculty Orientation
FSU will welcome new faculty in August with New Faculty Orientation. Please stay tuned for more information and consider ways you can make plans to help welcome our new colleagues to Tallahassee and to campus.
Sabbatical Leave
The University Committee on Faculty Sabbaticals will invite applications for one-semester sabbaticals at full pay and two-semester sabbaticals at one-half pay for the academic year 2021-2022 in early September 2020. An informational memorandum and the applicable forms will be available on the Office of Faculty Development and Advancement website no later than Tuesday, September 8, 2020. The deadline for deans' offices to submit electronic applications will be Friday, October 2, 2020. Please note that there may be earlier deadlines at the department and/or college level. Please contact Melissa Crawford if you have questions.
Robert B. Bradley Library Research Grants
Application Deadline October 9, 2020
Faculty are invited to apply for the annual Robert B. Bradley Library Research Grants, which support the research and creative endeavors of our faculty while developing our library's world class collections. Bob Bradley (retired VP for Planning and Programs at FSU) has been a longtime supporter of the University Libraries, and he has advocated consistently for resources to support the centrality of the libraries that play such an important role in the scholarly work of our faculty.
In 2020-2021 the Faculty Senate Library Committee will have a total of $100,000 to support the research and creative work of faculty with new library acquisitions accessible for the whole FSU community. Please consider preparing your brief mini-grant application over the summer, as all application materials are due in October.
The deadline to submit applications for 2019-2020 Bradley grants is Friday, October 9, 2020.
For more information, including further details about eligible items and application instructions, please see the materials posted to the Bradley Grant webpage.
Questions? Please contact Bradley Grant sub-committee co-chair, Barry Faulk.
UROP
We encourage you to learn more about UROP and to view the UROP Research Mentors Handbook.
This summer, the CRE is hosting monthly UROP Research Mentor Information Sessions through zoom. Below are the dates and zoom links:
When you are ready to upload a research or creative project to request research assistants, make sure to submit your project by August 17th to the database using FluidReview.
Adjustments to FEAS+ due to the COVID-19 Pandemic
A new option has been added for presentation, performance, and exhibition entry forms. Events that have been accepted or contracted and later cancelled may be flagged as such on the entry form. Generated CVs and reports will append "(Cancelled due to COVID-19)" to citations.
For more information:
Adjustments to faculty evaluations and tenure timelines due to the COVID-19 pandemic
Search for Experts in FEAS+
A new feature has been added to FEAS+! The Areas of Expertise as well as the Program of Research will now display on Faculty Profiles. Once you search for a faculty member's name, click on the "Profile" button, and you will see a section you may expand to see this information.
To add your Areas of Expertise and Program of Research: go directly into the CV Builder. Areas of Expertise is under the General tab; Program of Research is under the Research tab.
To access the Areas of Expertise and Program of Research of others at FSU: in the Faculty Search page, once you search for a faculty member's name, click on the "Profile" button, and you will see a section you may expand to see this information.
New Master's Degree in Entrepreneurship
The Jim Moran College of Entrepreneurship will establish a new master's degree in Entrepreneurship in the fall of 2020. Two majors, Hospitality Entrepreneurship and Product Development, will provide distinct options for the career advancement of its graduates. If you would like more information or would like to get involved in the College's efforts, please contact Dean Susan Fiorito or her partner in this enterprise, Dr. Don Farr , Director of the Dedman School of Hospitality.
---
The FSU Faculty Community
A Word from the Faculty Senate President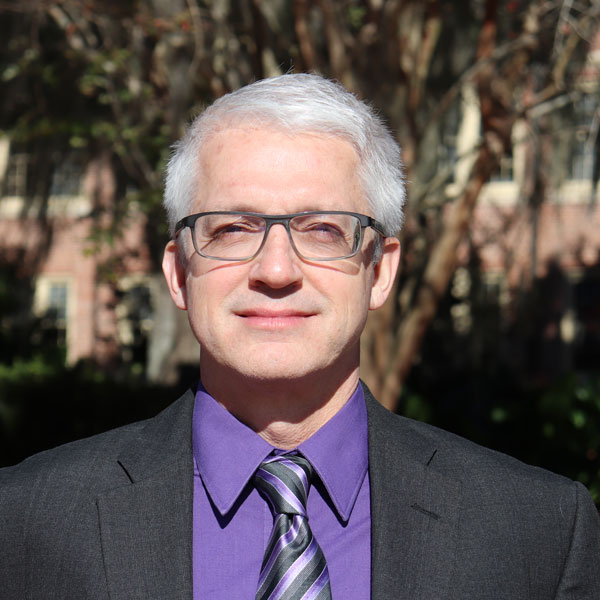 This has been a remarkable semester. Converting thousands of courses from face-to-face into remotely delivered has been a tremendous undertaking. I believe that the majority of faculty have never taught online courses before this spring. Despite that, we were able to convert in one week to remote courses for the second part of the spring term. I can't overstate the level of difficulty and the size of the effort on the part of the faculty this was, and the tremendous amount of support provided by FSU administration and staff. And it's not just been coursework: we've had to convert all individual student advising and student research direction to remote learning. And all the usual non-teaching academic work has gone online as well – course development, grant proposals, research, degree program creation, admissions, and updating or creating policies to deal with the unique situation we're in. It's been a tough semester, but I think we were successful. The upcoming academic year will be uncertain, but the faculty performance this spring assures me that we will be ready for it.
The Faculty Senate next meets on September 16, 2020. Like the last few meetings this spring, it will probably be held on Zoom. Our meetings are open and all are welcome to attend. Details can be found at the Faculty Senate web page.
Stay healthy,
Eric Chicken
Department of Statistics
Faculty Senate President
Congratulations to the 2020-21 Faculty Senate Steering Committee
Eric Chicken
FSSC President and Professor
850-644-3218 / chicken@stat.fsu.edu
Statistics
Dr. Erin Ryan
FSSC Vice Chair and Professor
850-645-0072 / eryan@law.fsu.edu
Law
Dr. Todd Adams
Professor
850-644-7159 / tadams@hep.fsu.edu
Physics
Dr. Enrique Alvarez
Professor
850-644-8188 / ealvarez@fsu.edu
Modern Languages
Ms. Bridgett Birmingham
Head, Learning Commons
850-644-6810 / bbirmingham@fsu.edu
University Libraries
Dr. Petra Doan
Professor
850-644-8521 / pdoan@fsu.edu
Urban and Regional Planning
Dr. Nancy Rogers
Professor
850-644-4142 / nancy.rogers@fsu.edu
Music Theory and Composition
Dr. Gary Tyson
Professor
850-644-3088/ tyson@cs.fsu.edu
Computer Science
---
Faculty Events Calendar