A Word From the VP
Welcome to the 2017-2018 academic year!  The start of a new academic year always has its challenges, but the loss of a week and a day of the semester due to Irma makes this year especially challenging.  We are fortunate that our campus and community did not bear the brunt of Irma. I hope you have all come through the storm with minimal damage and that your semester is getting back on track.  Finding ways to make up for missed instructional time is a daunting challenge for all of you who are teaching this semester.  So, too, is meeting your many research and service activities with one fewer week in the semester.  Please know that the Office of Faculty Development and Advancement (FDA) is happy to help in any way we can.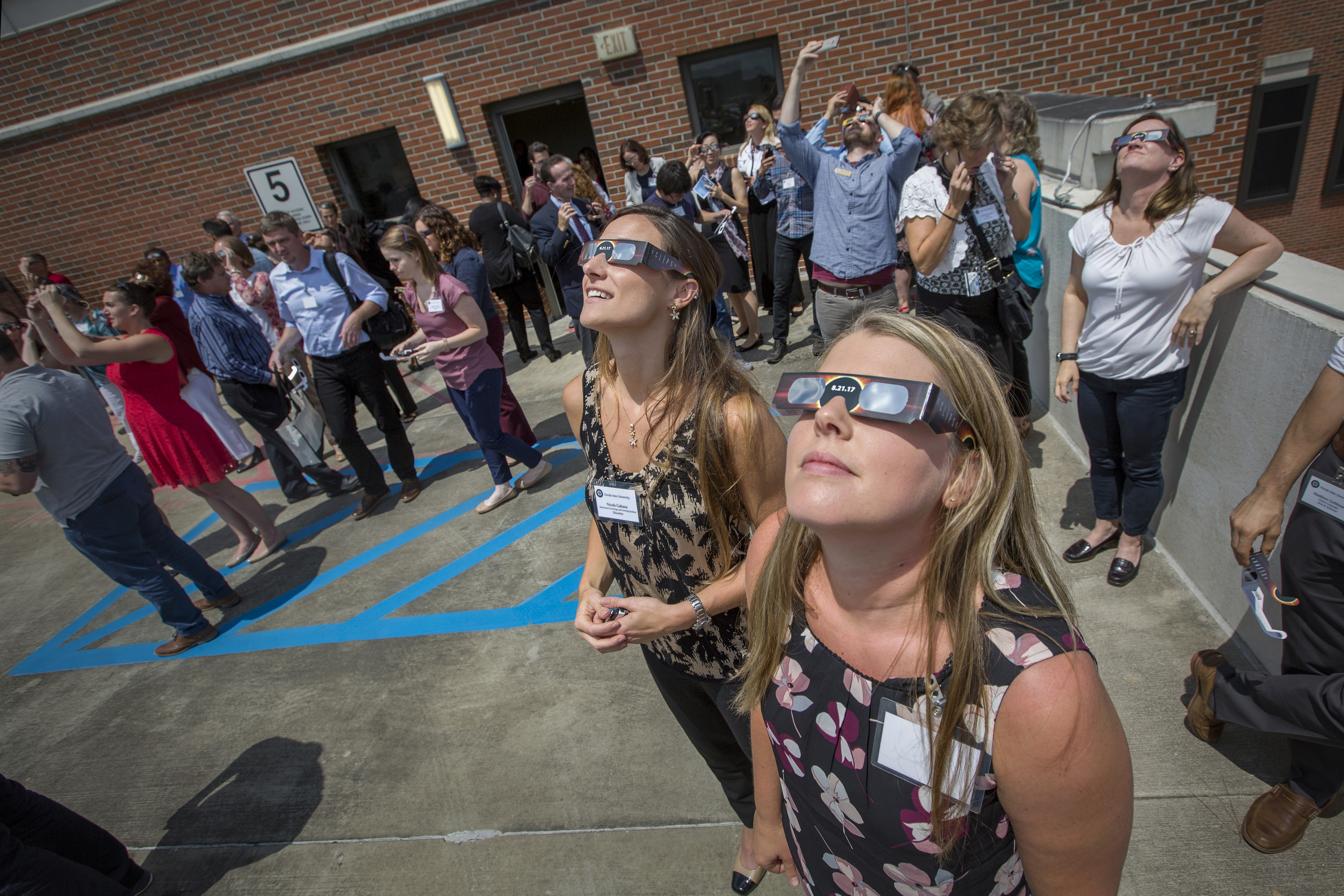 Just about a month ago, I had the pleasure of welcoming our newest faculty members to FSU.  New faculty orientation fell on the day of the total eclipse.  We all donned our special glasses and went to the top deck of the Turnbull parking garage during the peak viewing hours to witness it.  This issue provides a brief introduction to your new colleagues.
I am very pleased to announce that FSU is now an institutional member of the National Center for Faculty Development and Diversity (NCFDD).  This membership entitles each of you to a wealth of information on ways to thrive in academia.  I encourage you to activate your membership today (see this issue for details).  Although primarily aimed at faculty development, postdoctoral fellows and graduate students are included in the membership.  I think you will find NCFDD a valuable resource, not only for yourself but also for mentoring postdoctoral fellows and graduate students.
NCFDD is only one example of how the Office of Faculty Development and Advancement fulfills its mission to assist faculty members in their academic pursuits.  We welcome feedback and suggestions about ways we can better serve you.  Here's hoping that the remaining weeks of the semester are smooth and productive for all.    
Regards,

Janet Kistner
Professor of Psychology
Vice President for Faculty Development and Advancement
Welcome to New Faculty
We are excited that 139 new faculty have joined us here in Tallahassee and look forward to working with and getting to know these new colleagues and friends. Even if your department was lucky enough to welcome a new member this year, make a point to introduce yourself to one of your out-of-field colleagues.  One never knows where collaborations are born!   Check here to find a brief introduction to each new colleague:
---
Faculty Support
NCFDD
How do academics succeed?  Strategic planning, productivity, healthy professional relationships, and work-life balance are proven requirements for a long, successful career in the academy.  FSU now offers all faculty FREE membership to the National Center for Faculty Development & Diversity (NCFDD).  Serving more than 450 institutions across the country, NCFDD has members from almost every discipline and offers essential tools for making successful transitions at every stage of career. What does NCFDD have to offer you?
Increased interactions with external mentors and collaborators
Tried-and-true strategies for keeping your publication pipeline full
Writing accountability
Targeted mentorship
NFCDD experiences by Shannon Hall-Mills
College of Communication and Information
How Do I Join?
Go to www.FacultyDiversity.org/Join and select Florida State University On FSU's landing page,  select "Activate Your Membership." Register with your FSU email address only. The Office of Faculty Development and Advancement wants to know what you think of your NCFDD membership.  Email Peggy Wright-Cleveland at mwrightc@fsu.edu.  Online and on campus FSU seeks to provide the mentorship you need.  Stay tuned for face-to-face NCFDD events in the future.    
Center for the Advancement of Teaching
In July, Leslie Richardson joined the FSU community and has been busy ever since creating meaningful support of faculty teaching.  Leslie led a well-received workshop during New Faculty Orientation and continues to connect with new and established faculty through weekly teaching tips.  Take a look at the teaching tips offered below and consider how a Faculty Reading Group might give you just the boost you need.
Scaffolds for Learning (not just for skyscrapers)
Recovering from the Hurrication
---
Faculty Celebrations
New Faculty Landing Page for FSU.EDU
For months now, the Office of Faculty Development and Advancement has been developing a new landing page about FSU faculty. This page will be the first thing visitors to fsu.edu see when searching for faculty. It highlights faculty accomplishments and university goals. Take a look and let us know what you think.
---
Nuts and Bolts
Faculty Development
Promotion and Tenure
The 2017-2018 Promotion and Tenure (P&T) process has seen one big change this year - the process has gone completely digital! All Promotion and Tenures materials are to be submitted through the custom-designed digital Promotion and Tenure workflow within myFSU-HR. EBinders are due to the Office of Faculty Development and Advancement (FDA) by Friday, October 20, 2017. Please check with your department and/or college P&T delegate for internal deadlines and submission requirements. More information regarding the P&T process can be found on the FDA website.
Specialized Faculty Promotions
The 2017-2018 Specialized Faculty Promotion process is underway and will see one big change this year - the Office of Faculty Development and Advancement will not accept hard-copy binders. A workshop for candidates, department chairs/directors, and staff was held on Monday, September 18, 2017, in Dodd Hall Auditorium. The deadline for deans or directors to submit electronic promotion materials to the Office of Faculty Development and Advancement (FDA) through Melissa Crawford is Friday, February 16, 2018. More information about the specialized faculty promotion process can be found on the FDA website.
Sabbatical Leave (Tenured Faculty)
The University Committee on Faculty Sabbaticals invites applications for one-semester sabbaticals at full pay and two-semester sabbaticals at one-half pay for the academic year 2018-2019. Sabbatical leave is granted to increase a faculty member's value to the University through enhanced opportunities for professional development, research, and creative activities. This leave is made available to tenured faculty members who are covered by the BOT-FSU UFF Collective Bargaining Agreement and who meet the requirements set forth in the policies governing the Faculty Sabbatical Program.
Due to the unexpected closure of the university for Hurricane Irma, the deadline for deans' offices to submit electronic applications has been extended to Monday, October 9, 2017.  Please note that there may be earlier deadlines at the department and/or college level. All applications must be submitted by the dean's office. Please contact Melissa Crawford if you have questions regarding how to submit your college's applications electronically.
Professional Development Leave (Specialized Faculty)
Applications for Professional Development Leave for Specialized faculty are ready and waiting for download at http://fda.fsu.edu/faculty-development/professional-development-leave. Applications are due Monday, October 9.
Canvas Migration Progress
FSU instructors and departments are making significant progress in migrating their courses from Blackboard to Canvas, with 50 percent of fall courses being taught in Canvas.
"Just four months ago, the Canvas Transition Team at the Office of Distance Learning set a goal that 50 percent of FSU's course websites would be running in Canvas by this fall," said ODL Technical Support Manager Scott Bickley. "The challenge was accepted, and an overwhelming number of colleges and departments jumped on board. With the engagement of instructors and the support of our hard-working transition team, we met our goal!"
More than 700 instructors from a variety of colleges, departments, and schools across campus have received individual training on Canvas, as well as instructors at FSU-PCC. Since May, ODL's Instructional Development Faculty have offered more than a dozen different workshops and webinars, reaching well over 600 faculty and staff. ODL Technical Support staff have completed more than 150 one-on-one Canvas consultations and have resolved more than 2,500 support requests.
Our outreach continues with Fall Canvas Week on October 16–20, 2017, so mark your calendar now for campus-wide training sessions! More information will be coming soon to the ODL website.
Access Faculty Center on the go!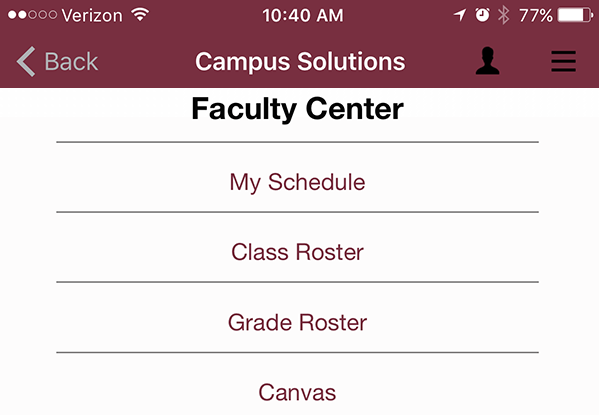 Quick, on-the-go access to essential faculty tools is available via the new mobile version of Faculty Center, available in the myFSU Mobile app. Use the app to download photo rosters, input grades and submit first-day attendance. Designed in collaboration with the Registrar's Office, the app gives you quick and secure mobile access to essential faculty tools—wherever you are. To get started, download the myFSU Mobile app from the iTunes App Store or Google Play and follow these instructions: How to Access Faculty Center. To learn more, visit: its.fsu.edu/Mobile.
---
The FSU Faculty Community
Faculty Senate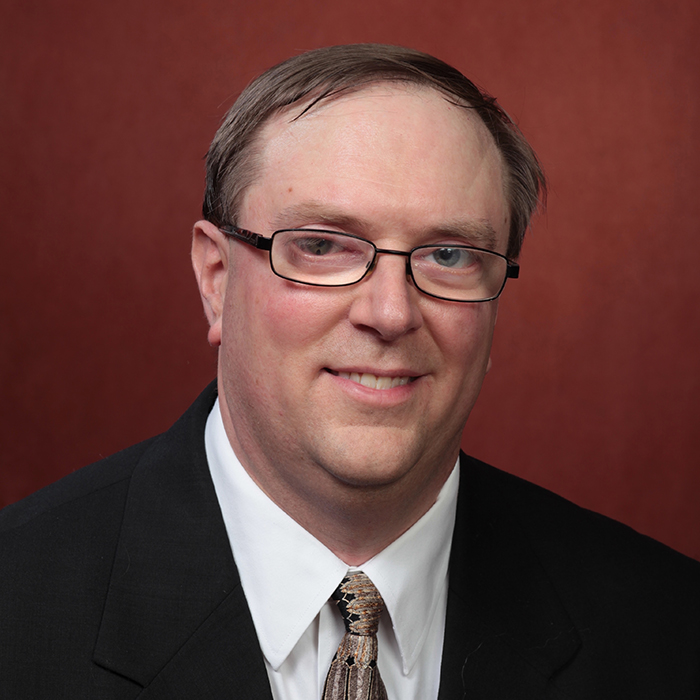 The Faculty Senate held its first meeting of the fall on September 20. One topic of discussion involved ways to make up the missed material and time from Hurricane Irma. (For ideas about this, see "Recovering from the Hurrication" above.) The Senate meets monthly during the fall and spring semesters, and agendas and meeting minutes are available on the Faculty Senate webpage located at http://facsenate.fsu.edu/faculty-senate-meetings. In addition to the regular business of the Senate, there is an ad-hoc committee reviewing the FSU Constitution which has not been updated since 1989. The Constitution Review Committee will make recommendations for changes that will be considered by the Senate. Any changes that pass the Senate will also be voted on by the General Faculty.
Prior to the start of the December Senate meeting (December 6, 2017), President Thrasher will make the annual State of the University address. All members of the university community are invited to attend.
Faculty Community Events
FSU Faculty Luncheon Series at UKirk
The FSU Faculty Luncheon Series has been uniting faculty across disciplines for over thirty years. Fall 2017 features distinguished faculty speakers from all stages of career reflecting on their scholarly research and creative activities at Florida State University. Come and hear what your colleagues are doing.
Tuesday, October 10
What Does an Atheist Theologian Even Do???
Martin Kavka, Professor of Religion
Tuesday, November 14
"Natural Genius Cultivated in a Suitable Soil": Agatha Christie, Information Scientist
Michelle Kazmer, Professor of Information
Tuesday, December 12
Breathing Life into T. Rex
Gregory Erickson, Professor of Biological Science
The series is open to the public, and takes place at UKirk Tallahassee, formerly the Presbyterian University Center or Westminster House, located at 548 W. Park Ave. Parking is available in the lot on the north side of the building.
Luncheons begin at 12:15, and the programs follow at 12:45, concluding at 1:30. Lunches are $10 per session, and reservations are required.
All reservations must be made by noon of the Thursday before each luncheon. Please mail reservation requests to UKirk Tallahassee, 548 W. Park Ave., Tallahassee, FL 32301, with a check made payable to UKirk Tallahassee and clearly marked "Faculty Luncheon Series."
In order to pay at the door, please call 850.222.6320 for a reservation, or send an email to office@ukirktallahassee.com.
The Faculty Luncheon Series is co-sponsored by UKirk Tallahassee, the FSU Faculty and Friends Club, and the Alpha of Florida Chapter of Phi Beta Kappa.
For more information, please visit http://facultyluncheon.cci.fsu.edu/ or like our Facebook page at https://www.facebook.com/fsuflspuc/.
FSU Road Scholars Lecture Series
In its fourth year, the FSU ROAD SCHOLARS LECTURE SERIES brings distinguished colleagues from other institutions in the Atlantic Coast Conference to campus to make presentations for non-specialist audiences. These events are free and open to the public and co-hosted by departments and institutes on campus. Speakers meet with faculty colleagues and interested students while they are here. The selection of speakers is made by a Faculty Senate committee chaired by Dennis Moore. If you are interested in suggesting a speaker or getting your department or program involved in hosting, contact Dennis Moore directly. Definitely make plans to connect with other faculty on campus and meet a colleague from an ACC institution by attending each presentation.
October 19, 2017
"Families Caring for an Aging America: Time for a National Policy,"
by Prof. Richard Shulz
Distinguished Service Professor of Psychiatry
School of Medicine, University of Pittsburgh
3:30 p.m. in the College of Medicine Auditorium, followed by a reception in the lobby
-- FSU's Institute for Successful Longevity is co-sponsoring his visit
November 17, 2017
"Needs or Resources? Economic Disparities, Race and Kin Support,"
by Prof. Natalia Sarkisian
Department of Sociology, Boston College
1:30 p.m. in Strozier Library's Robert Bradley Reading Room, followed by a reception at 2:30, there
-- FSU's Department of Sociology is hosting her visit
March 2, 2018
"No Permission Required: Black Women Playwrights Beyond the Great White Way,"
by Prof. Kathy A. Perkins
Department of Dramatic Art, University of North Carolina-Chapel Hill
In the Augusta Conradi Theatre, 123 Williams Building
-- FSU's School of Theatre is hosting her visit
---
Faculty Events Calendar