A Word From the VP
Dear Colleagues,
The end of the 2020-21 academic year has finally arrived.  Never have I looked forward to the end of an academic year as much as this one.  I do not think it is possible to overstate just how challenging a year this has been for our entire academic community.
Kudos to you for all that you have accomplished this past year! I am especially grateful for all you have done for our students. You managed to provide them with high-quality instruction and helped them cope with what has probably been the most stressful and disappointing year of their lives.
And I know that students are not the only ones who have experienced stress and disappointment.  The struggle to keep with the many demands on your time this year has taken its toll.  You may have fallen behind in the goals you set for yourself.  If you have, you are certainly in good company.  My office is offering writing retreats and a variety of other groups and activities that you may find helpful for getting back on track. I hope that you will take advantage of them.  If you have any suggestions for other ways FDA can assist you, please contact us (fda@fsu.edu).
With the availability of vaccines, we are looking forward to a normal (or perhaps, "near" normal) 2021-22 academic year. Before we start the next academic year, I hope you will take time for rest, renewal, and fun.
Best,

Janet Kistner
Professor of Psychology
Vice President for Faculty Development and Advancement
---
Faculty Support
Faculty Fellows Program
FSU is excited to announce a new Faculty Fellows program aimed to involve faculty more directly in university initiatives and to increase the pipeline of faculty prepared for leadership position. Faculty will work either with the Office of Faculty Development and Advancement or with the Office of Research. Applications must be received by JUNE 15, 2021.
Weekly Writing Retreats
"OK! Time for me to log out. I have a slightly better sense of where the two "near-completed" projects are right now. If I can submit both for initial review in May, it would be ideal. Have a good weekend! Thanks for holding me accountable and see you some time(s) next week."
"That's for helping get me on track. This revise and resubmit shouldn't take nearly as long as the last one."
"I completed my draft and will be letting it lie fallow for a day before I return to it tomorrow.  See you then and thanks.
"I was able to get a good frame of the discussion section and identify the additional information I need to add. I'm hoping to be able to join you again tomorrow."
These are a few of the many check-in comments from writing community participants. When we set aside time to write in community, everyone makes some kind of progress, even if it was not exactly the progress planned.
We will continue daily opportunities for writing in virtual community this summer. Our community rules ask that you report your daily goals at the beginning of the session and report what you accomplished at the end. You may join and leave as you are able. If we are already writing when you join, please mute yourself, stop your video, and write your goals in the chat. If you join us at the beginning, we will greet each other and share our goals in real time. We do not have a formal ending, so simply record your successes and challenges in the chat before you leave.
We have several faculty writers who have made this a part of their weekly schedule and rarely miss joining in. We have several others who join in as projects demand and time allows. Feel free to join as suits your needs.
Send questions or suggestions to Peggy Wright-Cleveland, the writing session host.
Zoom Writing Sessions for SUMMER 2021:
Mondays, 12:30 – 5:00: https://fsu.zoom.us/j/711535645
Tuesday, 12:30 – 5:00: https://fsu.zoom.us/j/91178339170
Wednesday, 8:30 – noon: https://fsu.zoom.us/j/324281200
Thursday, 8:30 – noon: https://fsu.zoom.us/j/635039154
Friday, 10:00 - 2:00: https://fsu.zoom.us/j/94635874094
Asynchronous Community Check-ins
Inspired by the NCFDD 14-Day Writing Challenge and encouraged by faculty request, FSU will be hosting asynchronous check-ins for accountability this summer. Our asynchronous community will ask members to use their time management/writing applications of choice, then post progress and offer support to other writers on a shared site. There will be no standard check-in time, therefore accommodating all writing schedules and time zones. However, there will be standard check-in periods, therefore creating accountability. This group will run May 10 – August 27th.
If you are interested in participating, contact Peggy Wright-Cleveland for more details.
FSU Research Mentorship Academy Expansion
Because FSU is member of the ASPIRE Alliance iChange Network, we were given the opportunity to have six faculty members trained by the CIMER Project: Roxanne Hughes, Lara Perez-Felkner, Adrienne Stephenson, Jay Terry, Mark Weatherspoon, and Peggy Wright-Cleveland. These six faculty members will work with the will work with the Office of Research Development's Research Mentor Academy to provide research mentorship training and communities of practice to FSU faculty. Rachel Goff-Albritton, Assistant Director of the Office of Research Development and Program Lead of FSU's Research Mentor Academy, and Peggy Wright-Cleveland, Director of Faculty Development, will collaborate to expand this training in meaningful ways to Humanities and Arts faculty. The Humanities pilot project will take place this summer. Thank you to these faculty for devoting their time to this training and this campus-wide service. If you are interested in participating in Research Mentorship training, please sign up on the waiting list here:.
For more information on the work of ASPIRE, visit their newsletter.
Award Application Consultation
If you are considering applying for an award with a fall application/nomination due date, know that FSU provides support for proposal writing all summer. Contact Peggy Wright-Cleveland for proposal review, proposal management, and blind peer review opportunities for the following national awards.
Fulbright Scholar: due September 15, 2021 (all disciplines; all career stages)
ACLS Fellowship: expected due date: September 30, 2021 (Humanities and Social Sciences; mid-career and established career scholars)
NHC Fellowship: due October 7, 2021 (Humanities; mid-career and established career scholars)
The Office of Research Development is also available all summer to support faculty writing national award and grant proposals. Visit their website for more information.
---
Faculty Celebrations
FSU Awards Her Own
At the end of this very difficult year, it was especially meaningful to gather and recognize each other's successes and leadership. Congratulations to all those honored with exceptional teaching, mentoring, and research awards.
FSU Faculty Garner National Recognition
FSU faculty garnered five national awards this year, one a first for FSU.
Three faculty were awarded an NSF CAREER grant. This award is given to exceptional early career faculty in the sciences and will support five years of research. This award requires not only innovative, public facing research, it also requires a meaningful teaching plan. Congratulations to Hitesh Changlani, Assistant Professor of Physics; Neda Yaghoobian, Assistant Professor of Mechanical Engineering, and Viet Hoang, Assistant Professor of Computer Science.
Frank Gunderson was awarded a Fulbright Distinguished Chair appointment in Tanzania. Dr. Gunderson will spend ten months in Tanzania researching oral history narratives of Musiki wa Dansi (dance Music) in Dar es Salaam and directing graduate students in music and performance-related field research. Dr. Gunderson joins four other FSU faculty who have earned the Fulbright Distinguished Chair honor. Congratulations, Dr. Gunderson.
Lilian Garcia-Roig, Professor of Art, was selected as a Guggenheim Fellow. FSU has eleven other Guggenheim Fellows on faculty; twenty-one Guggenheim Fellows have served as FSU faculty since 1955. Dr. Garcia-Roig is the first from the Department of Art and the first from the College of Fine Arts. Congratulations, Prof. Garcia-Roig!
Professor Greg Boebinger was elected a member of the National Academy of Sciences. Dr. Boebinger is the first FSU faculty member elected for this honor while on faculty at FSU and the first whose career was built at FSU. Congratulations, Dr. Boebinger!
---
Nuts and Bolts
University Libraries Implement Catalog and Discovery Upgrades and YES, You Need to Know About It!
As University Libraries works to improve services, faculty can expect a short transition time. Please read carefully so that you can have the materials you need this summer. In particular, take note of the following:
Some links to library materials will change on July 13, 2021. Links to our current catalog and OneSearch system will not work properly after this date, even if they are "permalinks." Links generated from library databases and vendor ebook platforms other than the catalog and OneSearch will not be affected.
What to do:
Check the links that you and your students use to access library materials, both now and after July 13, 2021. Consider links in Canvas, on your syllabi, in your CV, or in the citation managers that you use when conducting literature reviews.

If the links contain "fsu.catalog.fcla.edu", "site=eds-live", or "site=pfi-live", they will need to be updated after July 13. Resources hosted on any platform other than EBSCO can be updated now to the vendor specific permalink.
Links that go directly to databases (JSTOR, Web of Science, etc.) and links that contain "DOI" followed by a long number will not be affected.

Record or export the citation information for links that will be changing, so you'll be able to easily identify the correct items in our new search system later this summer.
UBorrow is suspended between May 1 and July 13th.
What to do:
If you have not already reserved the UBorrow materials you need, contact your subject librarian to see if you have any alternatives for accessing that material.
ACCESS THE InCOMMON RESEARCH NETWORK
FSU faculty, researchers and students can now use their FSUID to access the InCommon Federation. The InCommon Federation provides secure access to a global network of more than 5,000 research and scholarly collaboration tools. Use the network to share data and collaborate with other universities, libraries and research organizations—such as the National Science Foundation or Library of Congress. Simply navigate to a member site, select Florida State University in the dropdown and enter your FSUID and password. View a list of InCommon members.
The UROP PROJECT PROPOSAL PORTAL is now open! Submit your proposal by August 16, 2021!
UROP Research Information Session will occur monthly throughout the summer. Come learn more about becoming an Undergraduate Research Opportunity Program (UROP) Research Mentor! At these info sessions, you will hear about the benefits of working with a UROP research assistant as well as associated funding and awards. UROP Research Mentors who are currently working on a project and need help with their research can work with student research assistants on their projects for an academic year at no cost as part of UROP.
Information sessions will be from 3:30-4:30 pm on the following dates:
May 18, 3:30-4:30: Zoom Link
June 17, 3:30-4:30: Zoom Link
July 21, 3:30-4:30: Zoom Link
August 9, 3:30-4:30: Zoom Link
NEW FACULTY ORIENTATION
FSU will welcome new faculty in August 2021 with New Faculty Orientation. Please stay tuned to the website for more information and consider ways you can make plans to help welcome our new colleagues to Tallahassee and to campus.
Two New Undergraduate Degrees Gearing Up
Financial Planning
The FSU Board of Trustees has approved the College of Applied Studies' request to offer a B.S. in Financial Planning from the Panama City Campus. The degree will require students to complete courses in Financial Planning that prepare them to pass the Certified Financial Planner Exam. Those courses will be part of a well-rounded curriculum that includes courses in Entrepreneurship, Psychology, and Communication. Faculty at FSU-Panama City look forward to engaging with the new program, which will begin accepting junior-level students for the fall of 2022.
Linguistics
In its June meeting, the FSU Board of Trustees will learn about this new degree proposed by the Department of Modern Languages and Linguistics in the College of Arts & Sciences. It will include options for earning either a B.A. or a B.S. degree and will focus on the science of language, covering both formal linguistics (syntax and phonology) and applied linguistics (language acquisition, psycholinguistics, and sociolinguistics). The bachelor's degree is intended to be the first of several Linguistics degrees to be developed in the future.
SABBATICAL LEAVE
The University Committee on Faculty Sabbaticals will invite applications for one-semester sabbaticals at full pay and two-semester sabbaticals at one-half pay for the academic year 2022-2023 in early September 2021. An informational memorandum and the applicable forms will be available on the Office of Faculty Development and Advancement website no later than Friday, September 3, 2021. The deadline for deans' offices to submit electronic applications will be Friday, October 1, 2021. Please note that there may be earlier deadlines at the department and/or college level. Please contact Melissa Crawford if you have questions.
ROBERT B. BRADLEY LIBRARY RESEARCH GRANTS
Application Deadline October 8, 2021
Faculty are invited to apply for the annual Robert B. Bradley Library Research Grants, which support the research and creative endeavors of our faculty while developing our library's world class collections. Bob Bradley (retired VP for Planning and Programs at FSU) has been a longtime supporter of the University Libraries, and he has advocated consistently for resources to support the centrality of the libraries that play such an important role in the scholarly work of our faculty.
In 2021-2022 the Faculty Senate Library Committee will have a total of $100,000 to support the research and creative work of faculty with new library acquisitions accessible for the whole FSU community. Please consider preparing your brief mini-grant application over the summer, as all application materials are due in October.
The deadline to submit applications for 2020-2021 Bradley grants is Friday, October 8, 2021.
For more information, including further details about eligible items and application instructions, please see the materials posted to the Bradley Grant webpage.
Questions? Please contact Bradley Grant sub-committee co-chair, Barry Faulk.
Get More Intelligent Funding Recommendations through Pivot's Automatic Citation Ingest from ORCID
The Pivot funding database uses researchers' profile information in its recommendation engine, matching grants and collaborators to researchers. Now, citations added or updated in a scholar's ORCID profile will cascade near real time and seamlessly into their Pivot profile. Integration of this updated publication information helps Pivot learn more about the scholar's research area, improving recommendations for funding sources and collaborators. This latest enhancement to Pivot eliminates the need for scholars to key citations in their Pivot profile, freeing them to spend more time evaluating opportunities.
ORCID provides researchers with a unique identifier – an ORCID ID – and links their research outputs and activities to their ORCID ID. Many systems used by publishers, funders, and institutions include ORCID integrations. FSU is working with ORCID to collect IDs for our faculty and connect them to the information about your research activities stored in FSU's systems. Please visit https://orcid.fsu.edu/ and click on the "Create/Connect your ORCID ID" button to authorize the collection and use of your ORCID iD in FSU's systems. If you have not yet registered for an ORCID ID, you will be prompted to do so as part of the process.
Once you have created your ORCID ID, you can link it to your Pivot Profile in three easy steps:
Access your Pivot Account at https://pivot.proquest.com/session/login
Click "Your Profile" in the drop down menu under your name in the top-right corner of the screen
Click the Edit Profile button
Click the + Add button next to the ORCID heading
Follow the directions to either create an ORCID account or sign in to an existing account
Authorize Pivot to read your ORCID profile
If you have questions about connecting your Pivot Profile to ORCID, please email FSU's ORCID Task Force at orcid@lists.fsu.edu.
---
The FSU Faculty Community
A Word from the Faculty Senate President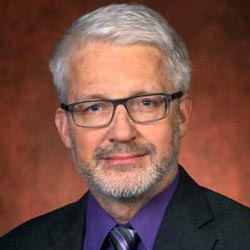 Our first ever remote year is complete. I, personally, hope we never have another one. Thanks to the availability of vaccines through FSU and other outlets we'll be back to (mostly) normal operations in the fall. It will be good to interact with our colleagues and students again. We made remote learning and research work for the last 14 months and we've learned a lot of new technology tools to use in our classrooms in the future, but I am looking forward to returning to an active and engaged campus learning environment.
The presidential search is still ongoing and will proceed well into summer. While this is not optimal for the involvement of faculty, be assured that I and many other faculty will remain involved in the process to represent faculty concerns in the selection of our new president.
The Faculty Senate had its last regular meeting of the academic year on April 14 and will reconvene on September 15. Our meetings are open and all are welcome to attend. Details can be found at the Faculty Senate web page.
Stay healthy, have a good break, and get ready to return to campus this fall.
Eric Chicken
Department of Statistics
Faculty Senate President
Faculty Senate Steering Committee 2021-22
Dr. Eric Chicken, Statistics
Dr. Erin Ryan, Law
Dr. Enrique Alvarez, Modern Languages
Bridgett Birmingham, University Libraries
Dr. Petra Doan, Urban and Regional Planning
Dr. Nancy Rogers, Music
Dr. Gary Tyson, Computer Science
Dr. Elizabeth Crowe, Elementary Education
FDA Welcomes Shiju Mathews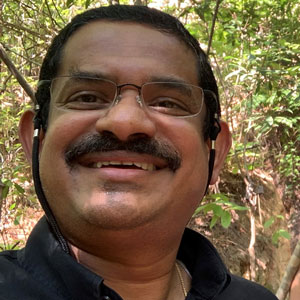 FSU is happy to welcome Shiju Mathews to our community. Shiju will be the programmer for FEAS+, the Faculty Award Catalog, and the Faculty Project Planner, among other things.
Shiju tells us this about himself:

My name is Shiju Mathews. I am positive about every aspect of life. I grew up in Kerala, India and immigrated to the United States in 2001. I started my career as a faculty in Electronics and Communications. During my career, I realized that my passion is in software and I have been working in the software industry for the past twenty-three years. I am married to Nima Varghese and have been blessed with two wonderful children. My son is an undergraduate majoring in Biological Science at FSU and my daughter is a 10th grader at Lawton Chiles High School. During my free time, I enjoy learning new technologies, spending time with my family, playing volleyball, and hiking with my dog (Sporty).
Returning to Campus is Fun!
Got pics of your return? Post them on social media and tag them with #FSUFaculty.
---
Stay in Touch
Follow us on social media to see what your colleagues are up to. Hint: following us on Instagram helps keep you connected to information going to students from faculty and about faculty. Have a message for students? Let us get it on Instagram for you!
---
Faculty Events Calendar