Academic Leadership Toolkit
Professional Development Leave Process
Overview: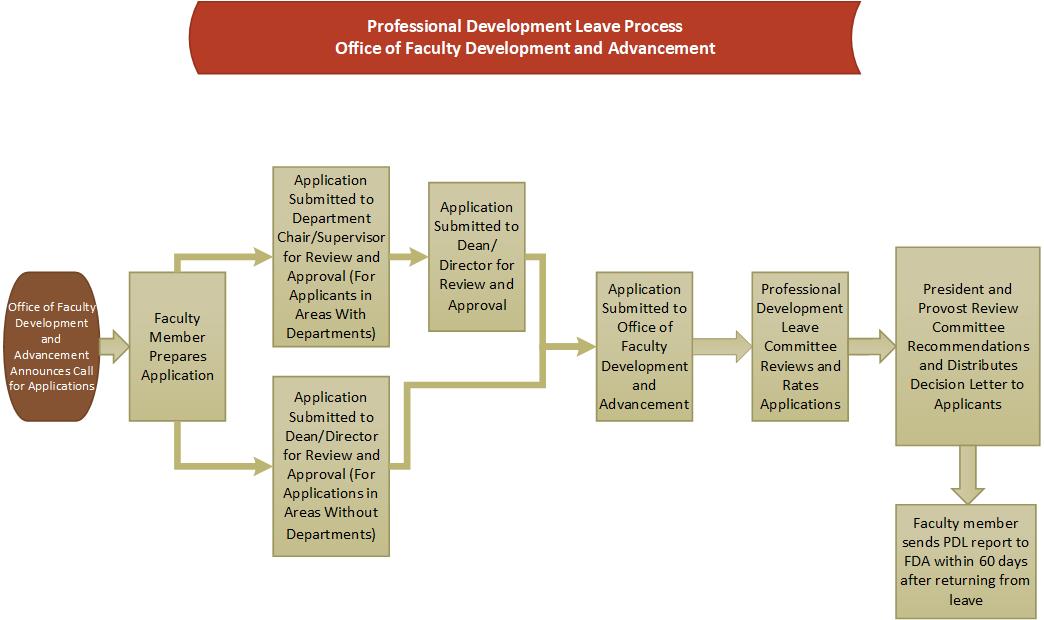 Goals:
To provide specialized faculty members (who have at least three years of full-time service) with a professional opportunity to pursue specific research or creative activities while on leave from regular duties.
Projects accomplished on professional development leave should increase the faculty member's value to the University as well as enhance the faculty member's teaching, research or creative activity agenda. This, in turn, should bolster their chances of being promoted (if applicable).
Authority and Responsibility:
Chairs or other immediate supervisor determines whether to forward an application.
Committee appointed by the President, which includes specialized faculty members, the Dean of the University Libraries, the Vice President for Research, and the Vice President for Faculty Development and Advancement (Chair), reviews all applications and recommends awarding leave.
President grants final award of leave.
Common Pitfalls:
Not ensuring that applicants are eligible to apply. (Are they in a specialized faculty position covered by the FSU BOT-UFF Collective Bargaining Agreement? Have they worked at FSU for three or more years? Has it been three years since their last Professional Development Leave?)
Chairs are not obligated to endorse a faculty member's application if they cannot afford for them to be gone for the term/year requested.
Assuming that you will receive funding to replace the faculty member in their absence – no central funding is provided.
Not understanding that the quality of the application affects the outcome – not everyone is accepted.
Resources:
The Office of Faculty Development and Advancement issues an annual invitation for applications that includes detailed instructions for applicants and others involved in the professional development process.
title-inside title-centered
2