The Florida State University community celebrated its faculty members who have gone through the rigors of having a book, score or CD published in 2017 during FSU Authors Day.

Learn more about our Florida State University faculty members!
Anke Meyer-Baese awarded Fulbright
---
Anke Meyer-Baese awarded Fulbright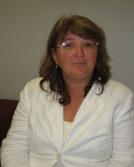 Anke Meyer-Baese, professor of Scientific Computing, has been awarded a 2016 Fulbright Scholar grant to France.
According to Dr. Meyer-Baese, "Dementia with Lewy bodies (DLB) is the second most common dementia after Alzheimer's disease (AD). The overlapping clinical symptoms of DLB and Alzheimer's disease make differentiation between these two neurodegenerative diseases difficult. Neuroimaging methods have provided important information on differences in specific structures between AD and DLB patients that can be used to enhance diagnostic accuracy.
The research for this Fulbright award will provide a fast and accurate computational diagnosis support based on neuroimaging techniques for the clinical neuroscientist to assist him in identifying DLB patients at an early stage and evaluating their disease evolution."
This award is also listed by the National Research Council as a Prestigious award.