The Florida State University community celebrated its faculty members who have gone through the rigors of having a book, score or CD published in 2017 during FSU Authors Day.

Learn more about our Florida State University faculty members!
Amy Ai named Fulbright Distinguished Chair
---
Amy Ai named Fulbright Distinguished Chair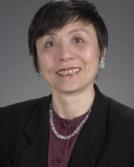 Amy Ai, professor of Social Work, has been named a 2016 Fulbright Distinguished Chair. The Fulbright Distinguished Chair Awards comprise approximately forty distinguished lecturing, distinguished research and distinguished lecturing/research awards ranging from three to 12 months. Fulbright Distinguished Chair Awards are viewed as among the most prestigious appointments in the Fulbright Scholar Program. Dr. Ai will be conducting her research in China. 
This award is also listed by the National Research Council as a Prestigious award. 
For more information, please visit http://news.fsu.edu/Top-Stories/FSU-professor-awarded-Fulbright-Distinguished-Research-Chair.