Michael Carrasco receives NEH Fellowship
---
Michael Carrasco receives NEH Fellowship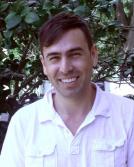 Michael Carrasco, associate professor of Art History, has received a 2016-2017 NEH Fellowship for his book From the Stone Painter's Brush, which is "an ethnopoetic analysis of classic period Maya narratives."
This award is also listed by the National Research Council as a Highly Prestigious award.
For more information, please visit http://arthistory.fsu.edu/dr-carrasco-receives-neh-grant.